Apple crumbles are an autumn treat. Cosy and warm and sweet.
Here's how I make mine.
Ingredients:
For the Filling:
Cooking apples – peeled, cored and chopped
Demerara Sugar
Cinnamon
Ginger
For the Crumble Topping:
Flour
Butter (cubed)
Demerara Sugar
Place the apple pieces in a deep bottomed pan and heat gently. Sprinkle with sugar, ginger and cinnamon and cook down for about ten minutes until the apples soften.
Turn off the heat and allow to cool slightly, before spooning the mixture into an ovenproof dish or individual ramekins.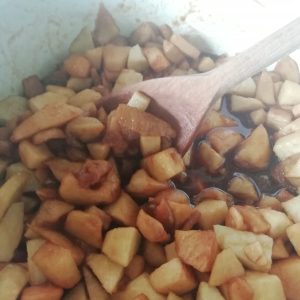 In another bowl, mix together the flour and sugar. I have not added quantities to the recipe, because it depends on how many apples you have, which varies depending on your luck foraging, but a ratio of about 30% sugar to 70% flour is about right.
Rub the butter into the mixture using your fingers until the crumble topping resembles breadcrumbs.
Take your dish with the apple mixture in and spoon the crumble topping on top. Aim for 50% apple on the bottom, with 50% crumble topping on top.
Place the ramekins (or dish) on a baking tray and cook in a pre-heated oven at 200°C for around 20 minutes.
They are ready when the topping is just turning golden brown.
Serve with ice-cream or custard.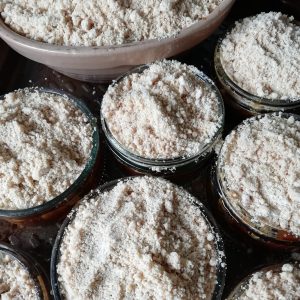 Recommended purchases based on this recipe: