What's in Season: October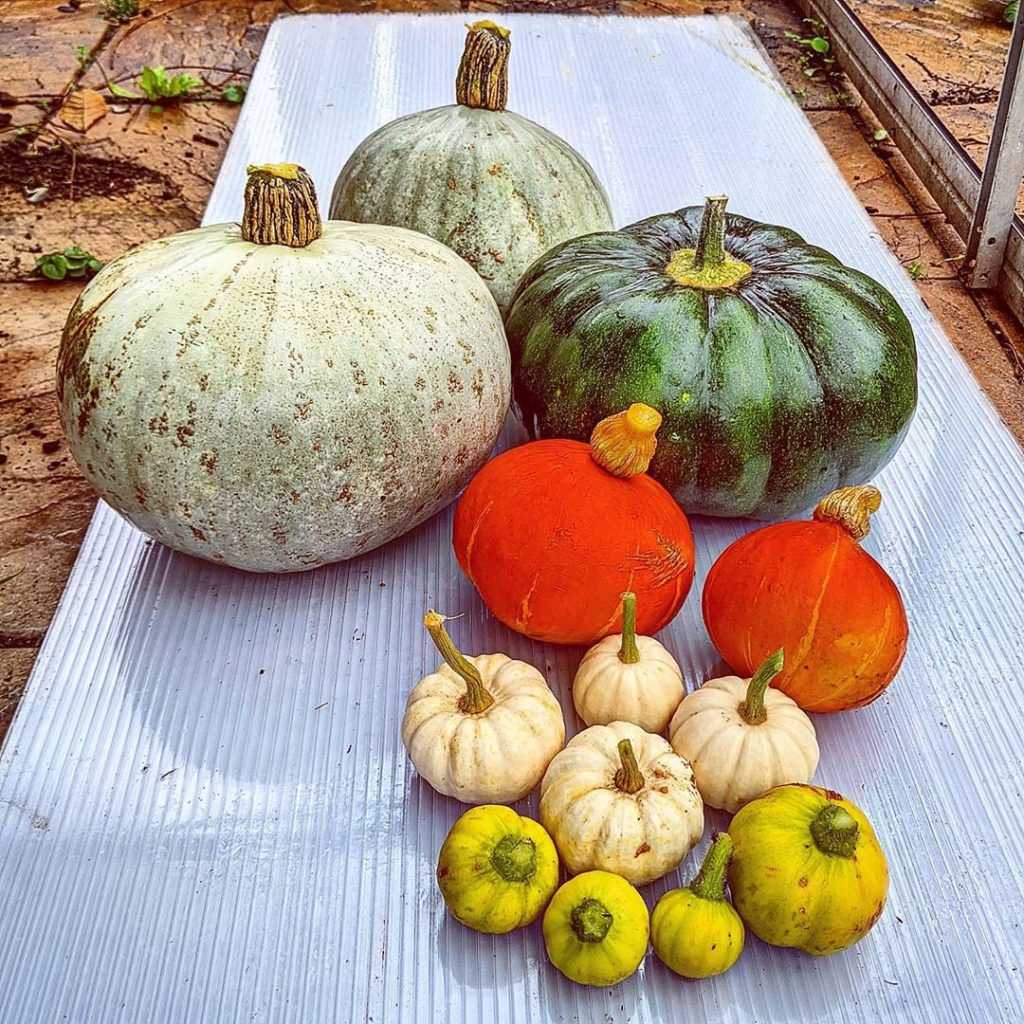 You can't visit a supermarket in October without coming across a large display of pumpkins. Unfortunately, they are not usually sold for eating. Pumpkins have become popular in October due to their use at Halloween, but it's a shame that most people will throw away the edible part and just use the flesh for lanterns. 
Pumpkins, Squash and Gourds are a great winter food, as they will last many months and are absolutely delicious roasted or in soups. They vary in size, colour and texture, so it's worth trying a few to find one that offers the best flavour for your palette.
Growing your own is very satisfying and it allows you to grow varieties that you can't usually buy in the shops. It's also a chance to get kids interested in gardening by encouraging them to grow the biggest or the strangest.
Many people have tried making pumpkin soup, but it's not the only use for these great vegetables. Why not serve roasted pumpkin slices as a side to your Sunday dinner? Or use the orange flesh in a curry or tagine? There is definitely more potential for the pumpkin than the Halloween Jack-o-Lantern.
Foraging for Sweet Chestnuts in October is an annual activity in our house. We are lucky that our local woodland has many chestnut trees, but they are relatively easy to find in parks and gardens. 
Sweet chestnuts fall from the tree wearing a prickly overcoat, but these usually split off pretty easily. You can pick the chestnuts off the forest floor and collect a large harvest without much hardship. 
Chestnuts can be eaten raw or boiled, but roasted is more traditional. They are a delicacy most enjoy around Christmas and the smell of roasting chestnuts can prompt a wave of nostalgia for Christmas markets and carol services.
Why not experiment with your roasted Sweet Chestnuts by adding them to stuffing or combining them with brussels sprouts? I would also recommend infusing them with brandy to make a nutty, alcoholic treat to keep you warm over the winter months.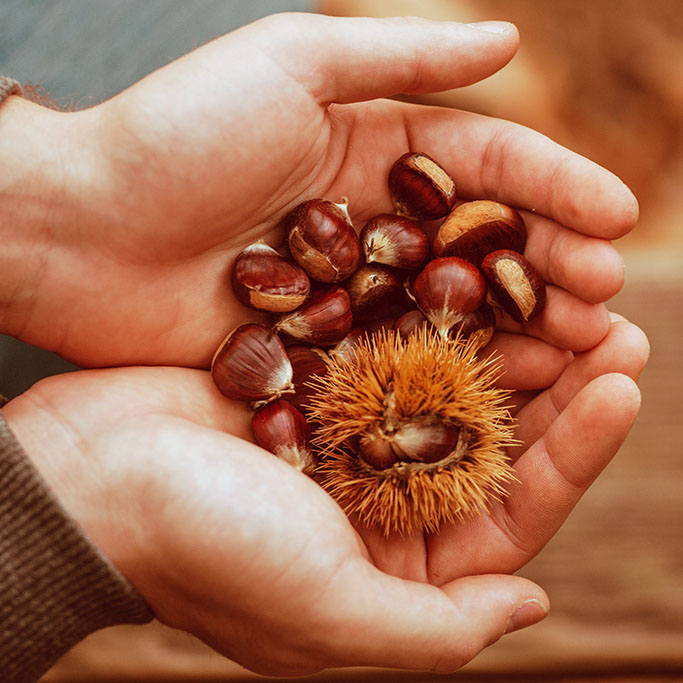 Other produce that is good to eat in October
Vegetables
Aubergine
Beetroot
Butternut Squash
Carrots
Celery
Chard
Chilli Peppers
Chinese Cabbage
French Beans
Kale
Leeks
Parsnips
Peppers
Pumpkin
Swede
Squash
Turnips
Herbs
Bay
Chives
Horseradish
Lemon Balm
Lemon Verbena
Lovage
Oregano
Rosemary
Sage
Sorrel
Sweet Cicely
Thyme
Winter Savory
Hedgerow
Blackberries
Crab Apple
Elderberries
Field Mushrooms
Giant Puffball
Haws
Hazlenut
Jew's Ear
Juniper
Nettles
Oyster Mushroom
Rosehip
Sea Buckthorn
Sloe Berries
Sweet Chestnut
Walnut
Fruits
Apples
Blackberries
Crab Apples
Elderberries
Medlar
Pears
Quince
Raspberries (Autumn)
Sloe Berries
Meat & Game
Goose
Grouse
Hare
Partridge
Pheasant
Rabbit
Wood Pigeon
Fish
Crab
Hake
Mackerel
Mussels
Oysters
Plaice
Pollack
Sardines