What Foods are in Season in July
July is a month of plenty!
It's time to start getting experimental in the kitchen as you use all your glut of fruit, vegetables and herbs.
Your freezer is your friend, but preserving in the form of pickles and chutneys is a good way to make your harvests last longer too.
Our focus this month is on the two abundant summer fruits and an excellent fish that is great for summer barbecues.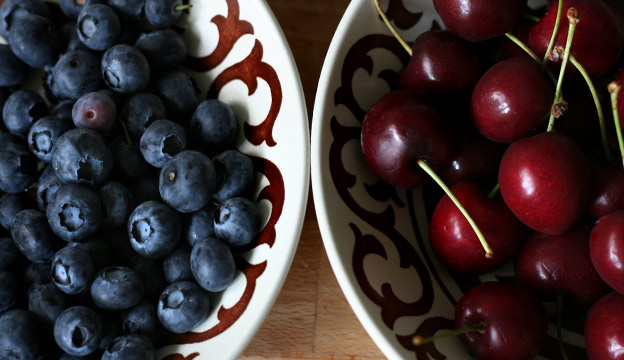 Cherries
The Romans are believed to have discovered sweet cherries in Asia Minor in about 70 BC and introduced them to Britain in the first century AD. They were traditionally used medicinally. Studies show cherries to be a good source of antioxidants, which help counteract heart disease, certain cancers, and other types of illnesses (the darker the cherries have higher levels than the red/yellow ones).
The fruiting season is very short for cherry trees. Most varieties will usually fruit in July depending on the weather conditions that particular year. Morello Cherries are a sour variety which has become popular in the UK over the years in gardens due to it being self pollinating. Sour Cherries usually fruit later in the year than sweet varieties, but their fruit can be just as delicious sweetened in jams and pies.
Unfortunately in the last 50 years Britain has lost around 90% of its Cherry orchards. Britain now imports around 95% of the Cherries we eat. Hopefully this is gradually changing as the public become more aware of food miles. Smaller varieties of hardier sweet cherries are being cultivated which are easier to manage and more productive which should also entice UK growers to invest in this once abundant summer fruit. Most people are totally unaware that this is happening; buying cherries from supermarkets without paying attention to what country they have been imported from. If you can, buy only British Grown Cherries. It will cut down on the air miles your cherries are traveling and also save a dying industry as well as wonderful summer fruit. Let's face it, why import cherries when our climate as absolutely perfect for growing them here in the UK?
Sweet cherries are wonderful fruits eaten on their own, but are amazing fruits to add to your cooking and even drinks. Ever tried making cherry brandy? Real cherry sauce topped pancakes on a glorious summer morning, with a little rich, indulgent cream? Go for it! Try mixing chopped fresh British cherries with some cookie dough, delicious cherry cookies!
Experiment with ingredients like cherries, it couldn't be easier; it's the best way to come up with new recipes!,
Blueberries
Blueberries are another wonderful summer fruit, with one of the highest antioxidant levels. Blueberries are extremely good for you as well as delicious.
Most of the time you'll see blueberries in the likes of muffins, cakes, pies and other baked wonders, but it's when they are fresh that they hold the most nutritional value and more flavour.
Traditionally used as a medicinal fruit, the blueberry plant has a long history of medicinal uses. Native Americans used the stems and leaves of the blueberry plant to make medicines. Europeans generally used the berries and extracts from the berries to treat the likes of mouth ulcers, diarrhoea, scurvy and even in the treatment of gout and rheumatism.
Blueberries freeze very well so their benefits can be enjoyed in the winter to make the likes of blueberry pancakes with cloves, vanilla and cinnamon, very warming and filling on a winter's day. Don't wash blueberries before freezing, seal in freezer bags and the berries will freeze individually and can be poured out when needed like marbles. Blueberries can also be used to make jams and preserves which will last 6 to 8 months.
Try our pancakes with seasonal summer fruits sauce recipe (blueberries, cherries, strawberries, and raspberries).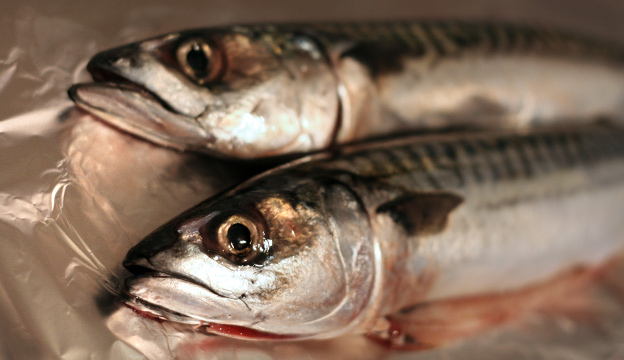 Mackerel
Mackerel are wonderful fish, and since their season falls on at least a little good weather it is handy that they cook marvelously on the barbecue. Prepare with a little sea salt, coarsely ground black pepper and a squeeze of lime or lemon juice before they go on and they are perfect!
Mackerel have quite a rich flavour which shines out from most recipes- that's why it does so well on its own on the barbecue! The firm flesh stands up to the searing heat from the barbecue perfectly. Don't let its rich flavour put you off trying it as part of a recipe though; it's quite versatile when used with spicy or tangy flavours. Try a jerk seasoning rub for example.
You don't need to cook Mackerel on the barbecue, it'll cook just as well in a foil parcel in the oven have a look at our simple mackerel recipe, just stuffed with a few bay leaves and served with fresh peas (which are also still in season in July). 
Mackerel is an excellent source of omega-3 fatty acids, vitamin B12 and selenium. Mackerel is a relatively inexpensive, healthy fish and is extremely tasty – while its season is quite long (From July to October – Try and avoid from March until July as this is when they are spawning). It's worthwhile enjoying it often while it is in season due to its health benefits.
Make sure you buy the freshest fish you can, Mackerel will go bad quickly so when you do find a fresh fish make sure you eat it the day you buy it. Have a look here for tips on buying fresh fish.
Other produce that is good to eat in July
Vegetables
Broad Beans
French Beans
Runner beans
Turnips
Courgettes
Peas
Radishes
Spinach
Beetroot
Cabbages
Carrots
Chard
Cucumbers
Globe Artichokes
Kale
Lettuce
Rocket
Herbs
Parsley
Basil
Chicory
Coriander leaves
Marjoram
Thyme
Chamomile
Chives
Sage
Dill
Mint
Lemon Balm
Lemon Verbena
Rosemary
Lovage
Fenugreek
Hedgerow
Field Mushrooms
Wild Rose Flowers
Giant Puffball Mushrooms
Bilberry
Wood Sorrel
Chanterelle Mushrooms
Fat Hen
Watercress
Wild Cherry
Field Poppy
Hedge Mustard
Good King Henry
Fruits
Cherries
Blueberries
Blackcurrant
Gooseberry
Raspberry
Redcurrant
Strawberry
Cranberry
Meat & Game
Lamb
Venison
Beef
Quail
Wood Pigeon
Guinea Fowl
Fish
Mackerel
Prawns
Plaice
Sea Trout
Wild Salmon
Crab
Crayfish