What's in season in August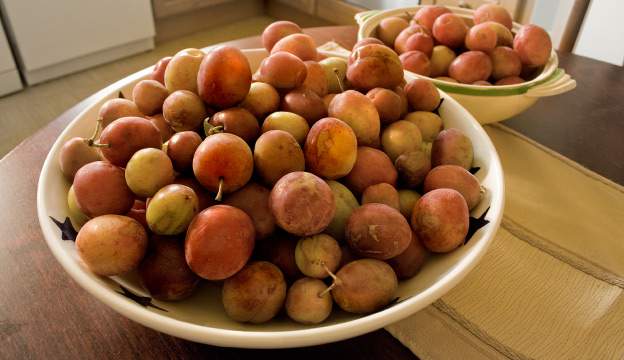 The height of summer is here and fresh seasonal fruit and vegetables are in abundance. It's a great time to start thinking about making jams and preserves and of course maybe a few alcoholic beverages. Many summer fruits (and even flowers) can make a wonderful, if not a little strong wine. Sorbet's are easy and wonderful to create as well, their sweet frozen goodness can be mixed with a little vodka or your favourite tipple and can make a refreshing summer cocktail… just be careful not to put away too many, their sweetness can be quite deceiving until the hangover the morning after.
For the food gardener August can be very daunting, there is a lot to harvest all at once and you may wonder what to do with it all. Just remember that most fruits and vegetables freeze extremely well. Preserve fruits like blackberries and plums by making jams or chutneys. Apples can be made into wonderful cider towards the end of the month quite easily with the aid of a cider press and some brewer's yeast; you could experiment by adding subtle flavours of oranges and a few zest gratings or even spices. Pears can make a simple Perry in a similar way. Whatever you have grown in your food garden now is the time to reap the rewards of all that hard work.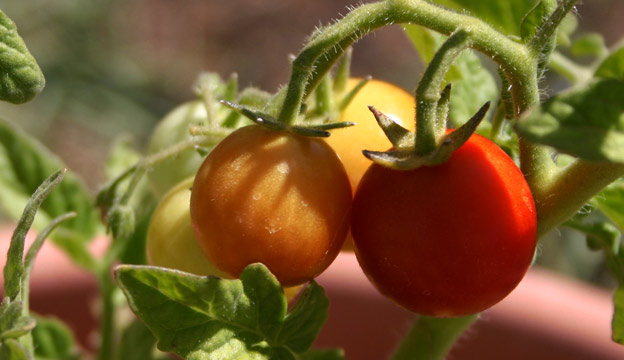 Tomatoes are wonderfully versatile in the kitchen and growing your own in a few pots in the garden (or even on the windowsill) couldn't be easier. They are great to add to summer salads, pasta dishes, curries or sliced and added to a summer barbeque burger, even as part of a full English breakfast they work their wonders with a dramatic zingy entrance. At the end of the season when the last of the plant's tomatoes are still a little green, they make a tasty green tomato Chutney that will last well into the winter months.
Tomatoes are renowned for their use in Mediterranean cuisine, especially Italian, mingling with flavours of basil and oregano, what would a pizza be with out a tomato coating first?
Because tomatoes are acidic, it's easy to preserve tomatoes in cans, whole, chopped or as sauces, many modern pasta sauces come ready blended with herbs, onions and garlic, making it easy to add straight to a pasta dish. Of course there is nothing better than picking a sweet cherry tomato straight from the plant and indulging in it's sweetness. Make Bruschetta with a little garlic on lightly toasted sliced bread with a dash of olive oil., coated with a generous serving of fresh chopped tomatoes and some tasty Prosciutto, it couldn't be more simple.
Tomatoes can make their way in to a number of dishes, I always keep a few cans of chopped tomatoes and dried pasta and rice in the store cupboard ready to make a meal out of!
Sweetcorn is a late summer delight and cooks well charred on the barbeque. I always try to get fresh unhusked corn when it is in season; it's really incomparable to the canned or frozen sweatcorn in taste. Sweetcorn makes a fun starter on the barbeque or of course a great vegetarian option. Make some chilli-garlic butter by mixing a few grated garlic cloves and a finely chopped deseeded chilli with a good amount of butter (depending on how much heat you like you can try some different varieties of chilli). If you're daring enough and like a bit of heat a single scotch bonnet chilli finely chopped (the finer the better) will add a good kick to your chilli-garlic butter (wear gloves and goggles while preparing the chilli, the last thing you need is jalapeno eye… ouch!) Pull the husk off the corn (leaving it attached at the bottom) butter the fresh corn underneath with your freshly prepared chilli-garlic butter, then cover the corn with the husk again and brush or spray on a little oil before adding directly to the barbeque. The husks should char and the butter should melt into the corn. Turn regularly and serve with the charred husk still on. The sweetness of the corn and the kick from the chilli will give a divine flavour.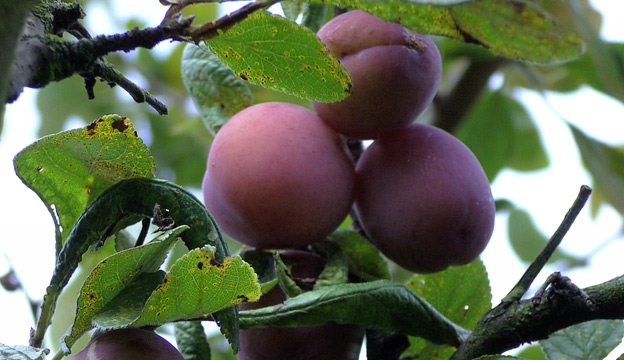 Plums, tasty, juicy fruits that work wonderfully as ingredients in a recipe, made into plum jam or of course plum wine.
Prunes are dried plums (although a certain type of plum is used for prunes). The Victoria Plum is the most common grown British eating plum variety, these are sweet plums which can either be cooked or eaten as they are. If you have room in your garden a self pollinating Victoria Plum tree will be a low maintenance investment.
These trees are heavy croppers and you'll be able to make preserves, wine, and deserts from mid August to mid September. They have great health benefits, plums are full of antioxidants and are also often used to help regulate the functioning of the digestive system. Plums and prunes have a laxative effect so don't eat too many all at once!
Other produce that is good to eat in August
Vegetables
Aubergine
Beetroot
Broad beans
Broccoli
Carrots
Celery
Chard
Courgettes
Cucumber
French beans
Leeks
Lettuce
Mangetout
Marrow
Onions
Peas
Peppers
Potatoes (Main Crop)
Radishes
Rocket
Runner Beans
Spinach
Sweetcorn
Tomatoes
Turnips
Herbs
Babington's Leek
Basil
Borage Flowers
Bunching Onion
Chervil
Chives
Fennel (seeds)
Lemon Balm
Lovage
Mint
Oregano
Parsley
Rosemary
Sage
Summer Savory
Sweet Cicely
Thyme
Winter Savory
Wood Sorrel
Hedgerow
Blackberries
Bilberries
Cep
Damsons
Elderberries
Field Mushroom
Giant Puffball
Hazlenut
Raspberries 
Rowan
Rosehip
Sea Buckthorn
Wood Sorrel
Yarrow
Fruits
Apples
Blackberries
Blackcurrants
Blueberries
Cherries
Elderberries
Damsons
Gooseberries
Kiwi Fruit
Melons
Nectarines
Peaches
Pears
Plums
Raspberries
Redcurrants
Meat & Game
Grey Squirrel
Grouse (From the 12th August)
Hare
Lamb
Rabbit
Venison
Wood Pigeon
Fish
Crab
Crayfish
Herring
Hake
John Dory
Lobster
Mackerel
Monkfish
Pollack
Sea Bass
Sole