What's in Season: September
September is traditionally the month when Harvest Festivals take place across the U.K. It is celebrated as a month of plenty, where all your efforts earlier in the year finally come in fruition.
It is also a good month for foraging, with plentiful crops like blackberries and crab apples being abundant. For this reason, it is definitely crumble month! Time to change from light summer treats, to homely comfort desserts as the weather gets cooler and the nights are drawing in.
Here is our handy guide to food that is good to eat this month.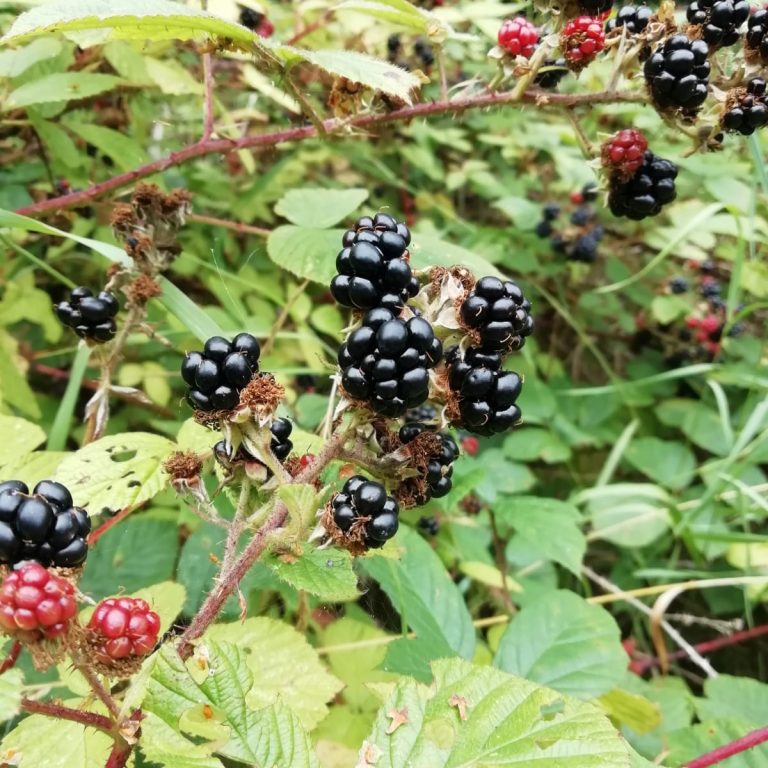 Blackberries
It would be difficult to go on a walk in September and not find any blackberries in the hedgerows. They are so widespread that you are more likely to get bored of picking them than you are to come home with a meagre basket full.
I enjoy blackberry picking, because it is quite nostalgic. My mum used to take us every year to a patch near our home and it was the only foraging we did back then. Blackberries are a good starter fruit for people (and children) new to foraging to pick, because they are easily identifiable. The only concerns are that the brambles can be quite sharp and the berries can stain clothing if you squish them. Always pick berries higher than the average dog leg height, for obvious reasons. It is also advised to find a patch away from roads.
Once you have brought your blackberries home you will need to wash them thoroughly. My mum used to soak her berries in a slight salt water, but I usually just rinse with water and freeze them until I need them.
Use your blackberries in anything – jam, pancake syrup, smoothies, compote, desserts or combine with apples for the perfect autumn crumble.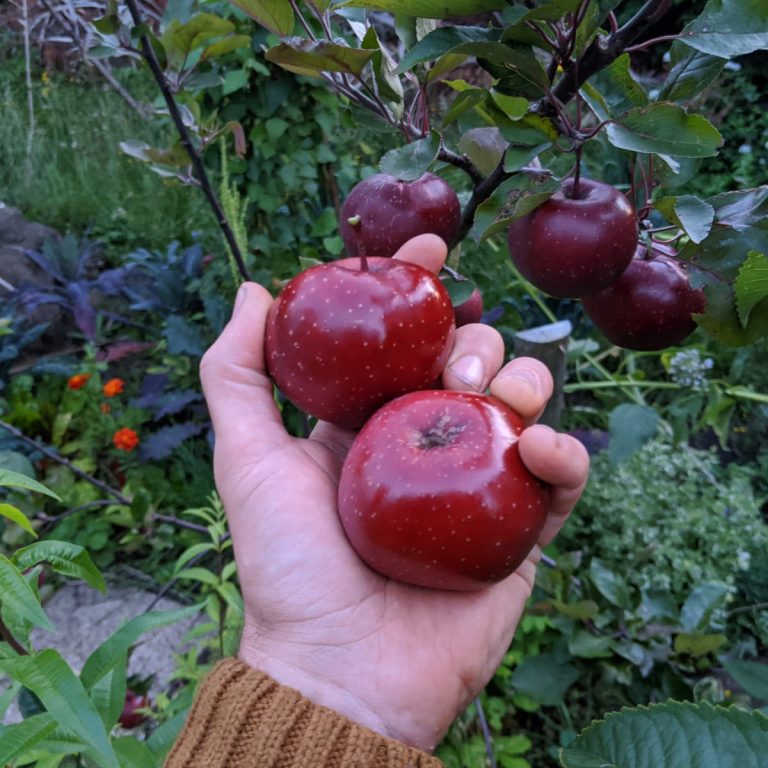 Apples
Apples are ready to harvest in September and are usually just as plentiful as blackberries if you know of anyone with an established tree. We are lucky enough to have 2 family members with massive cooking apple trees in their garden and they produce that much fruit that they are desperate for us to take them of their hands.
Our own trees in the Food Forest are mostly on dwarf rootstock and are eating apples, so crop yields are not as high as on a full size tree, but the apples are easy to pick without ladders and simple to net to keep from the birds. It is still a treat to pick an apple from your garden and eat it straight from the tree.
Crab apples can also be foraged this month. They are usually smaller than cultivated apples, but they are high in pectin, so great for making jellies and jams with.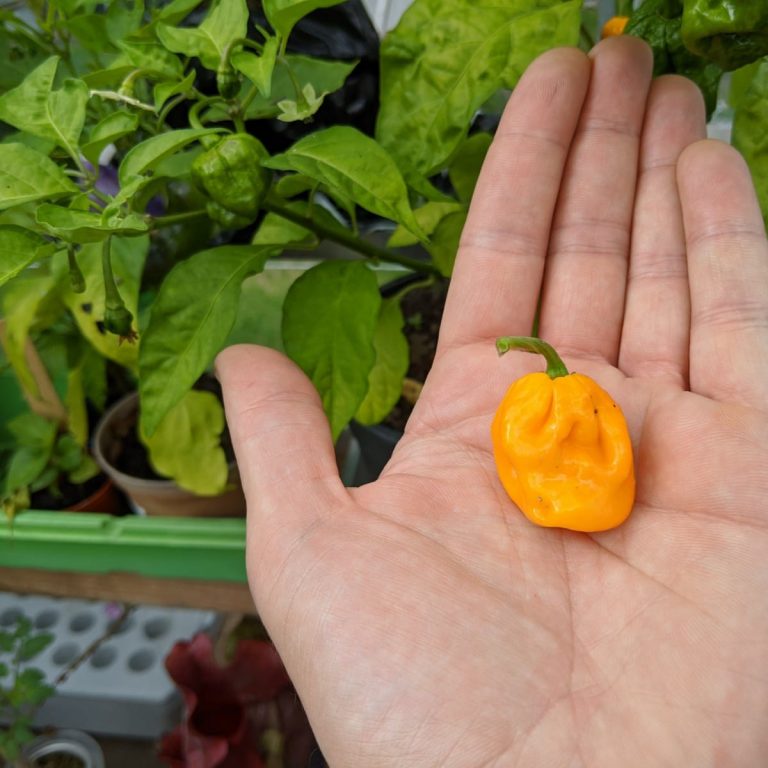 Chillies
If you have been growing chillies this year, then September is the month you should have a lot of spicy meals to eat. Our greenhouse is bursting with colour as the chillies change from green, to yellow, to red and even purple. We have grown 4 different varieties of chillies from quite mild to fiery hot.
Growing your own chillies is quite rewarding, because you can experiment with your tastes to find the perfect variety for your pallet and grow chillies that you won't find in supermarkets. Once you have found a chilli pepper that you like it is easy to save seed to sow again the following year.
Chillies can be used in various styles of cooking from Cajun, Mexican, Indian, Thai, Jamaican and Chinese. Although they are not to everyone's taste they are reputed to have many health benefits. I like to have chilli in my omelettes in the morning, due to their ability to suppress your appetite. Plus, it's more exciting than porridge.
Other produce that is good to eat in September
Vegetables
Aubergine
Beetroot
Broad Beans
Cabbage
Carrots
Cauliflowers
Celery
Chard
Chillies
Chinese Cabbage
Courgettes
Cucumbers
Cucamelons
French Bean
Kale
Leeks
Onions
Peppers
Runner Bean
Swede
Sweetcorn
Tomatoes
Tomatillos
Turnips
Herbs
Bay
Chervil
Chives
Coriander (seeds)
Dill (seeds)
Fennel (seeds)
Hyssop
Lemon Verbena
Marjoram
Mint
Oregano
Parsley
Rosemary
Salad Burnet
Sage
Sorrel
Thyme
Welsh Onion
Winter Savory
Hedgerow
Bilberry
Blackberries
Chanterelle Mushrooms
Chickweed
Crab Apple
Elderberries
Field Mushrooms
Haws
Hazlenuts
Hops
Horseradish
Jack-in-the-Hedge
Juniper
Rosehips
Sea Buckthorn
Sloe Berries
Sweet Chestnut
Walnuts
Fruits
Apples
Blueberries
Bilberry
Crab Apples
Cranberry
Damsons
Elderberry
Figs
Grapes
Pears
Plums
Quince
Sloe Berries
Meat & Game
Duck
Grouse
Patridge
Rabbit
Venison
Fish
Crab
Dogfish
Mackerel
Mussels
Oysters
Pollack
Plaice
Sea Bass
Squid
Whiting