February is another month where homegrown produce is a little bit scarce, but there are still some delights to find outdoors if you aren't put off looking by the cold weather.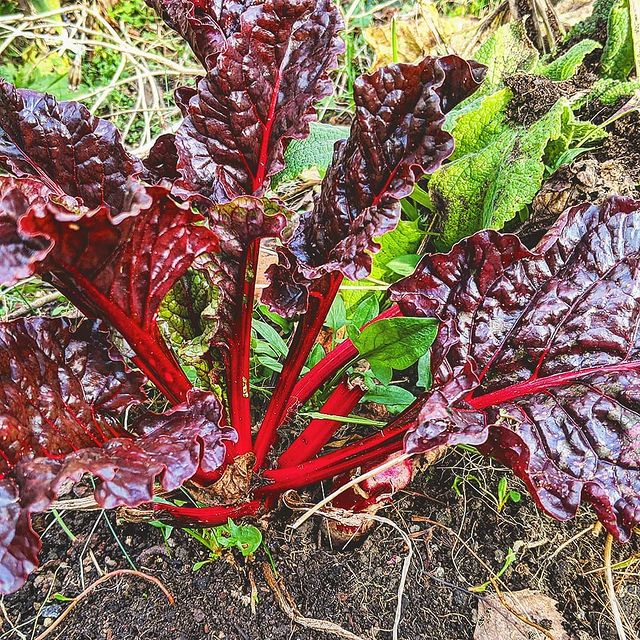 Chard
We started growing swiss chard about three years ago and we were so amazed by its hardiness and productivity that it is has been one of our main crops every year since.
From a single sowing in spring we have leaves throughout the summer and over winter. We use them as a cut-and-come-again crop in both our raised beds and as ground cover in our permaculture garden. 
Last year our chosen variety of chard to grow was 'Bright Lights' which offers multi-coloured stems to brighten up the veg patch.
Chard is great stir-fried or steamed and can be used like cabbage, kale or spinach. We also like to add the younger leaves to salads and sandwiches.
It is amazingly resilient and a welcome addition to the plot in winter, when a lot of other produce has died back. It is also an attractive plant, so is perfect for people wanting to mix edible crops in a flower bed or visual display. 
Other produce that is good to eat in February
Vegetables
Brussel Sprouts
Cabbage
Celeriac
Chard
Jerusalem Artichokes
Kale
Purple Sprouting Broccoli
Spring Greens
Winter Squash
Herbs
Mustard
Rosemary
Thyme
Winter Savory
Hedgerow
Chickweed
Dandelion (roots)
Jack-by-the-hedge
Wintercress
Fruit
Apples
Rhubarb (forced)
Meat & Game
Duck
Hare
Venison
Fish
Bream
Haddock
Herring
Mussels
Sprats