What foods are in Season in June
June is a bountiful month for those that have taken the plunge and decided to grow a few things in pots at the end of March.
While shops and supermarkets may have fresh seasonal produce at hand, the food gardener is the one reaping the rewards from such little work at the beginning of the year.
For those of you that aren't already getting their hands covered in soil, I hope this month I can convert at least couple of people into growing a few things in pots in their gardens.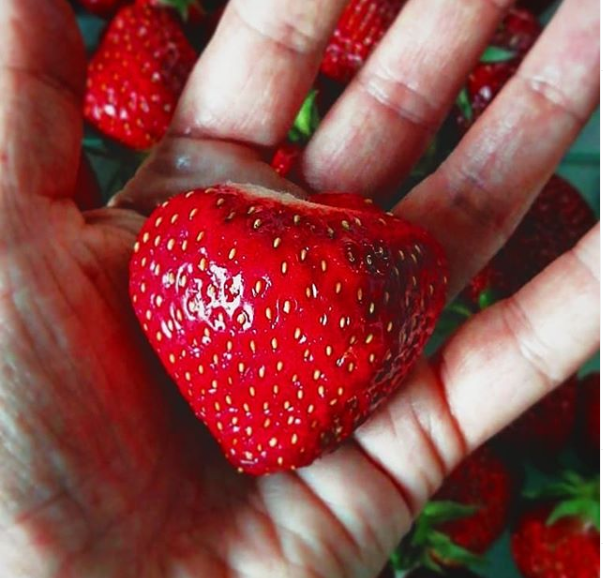 Strawberries
What's more delicious than a ripe strawberry picked straight from the plant on a hot summer's day?
British strawberries are perfect in June, their alluring sweet scent and their juicy succulence. While British strawberries are in the shops right now, growing your own strawberries is easy. There's nothing more rewarding than plucking your own strawberries straight from the plant and serving in a bowl with a little sprinkled sugar and thick whipped cream – you'll never eat a sweeter strawberry!
Strawberries are simple to grow, even if you have little space they thrive in warm spots in pots. Their sprawling shoots can be trained into adjacent pots to make yet more strawberry plants for next year. You can extend the season of your own strawberries by getting early, mid and late season varieties.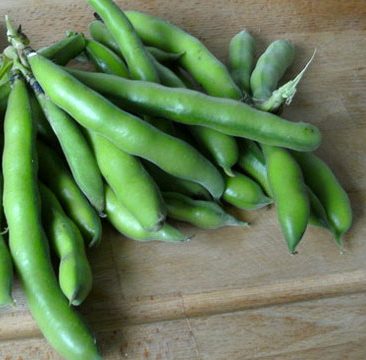 Broad Beans
While Broad Beans aren't to everyone's taste, to me it's how they are cooked that makes the difference.
Broad Beans again can be grown at home. They cope wonderfully in a grow-bag or in pots without much attention other than a good watering after an extremely hot day.
At home you have the choice of harvesting early for the young and tender pods that can be briefly steamed, or waiting until the pods are bigger and enjoy the beans in stews, soups, or as I prefer them, by removing the bean casings and boiling like potatoes, then mashing with a little pesto and serving thickly spread on top of grilled prosciutto on bruschetta.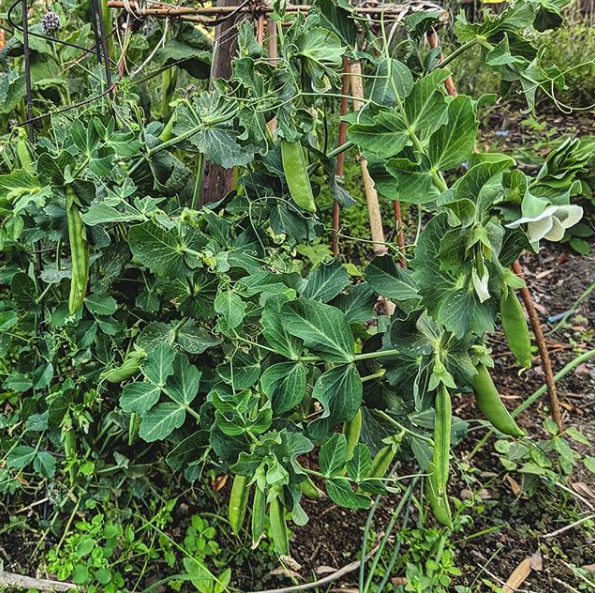 Peas
Peas are another great garden food. Again you don't need loads of space for a few pots of peas.
Even though they are available in the shops right now and taste delicious, growing them yourself can make them taste better still.
Just add a few bamboo canes for the peas to climb up and water them regularly and you can't go wrong.
There are many varieties of peas available from the mange-tout that you eat in the pods, to large pod varieties.
Pod peas are wonderfully sweet, snapped straight off the plant de-podding and eating as soon as possible.
Peas are a great accompaniment to lots of meals, gently steaming is my preferred method of cooking.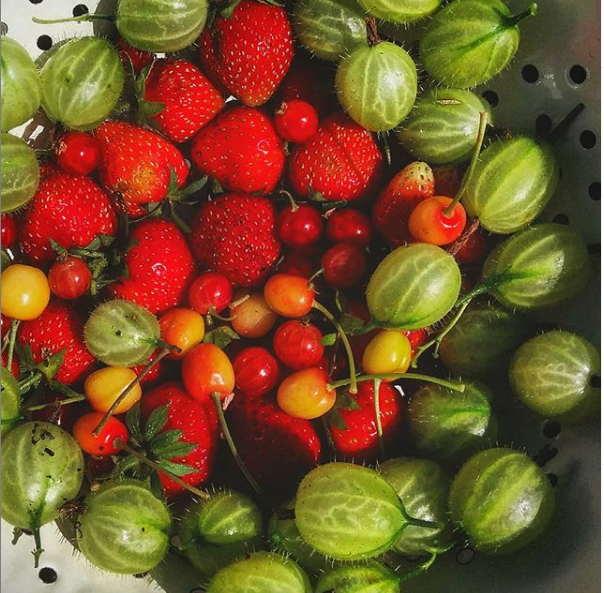 Gooseberries
Gooseberries bushes are hardy and particularly suited to the British climate. They can be trimmed into small bushes in pots or do well if left to their own devices in beds and borders. Gooseberries prefer good soil (grow-bag soil works wonderfully).
Gooseberries aren't as fashionable as they were in the nineteenth century when gooseberry wine, tarts, fools, pies and puddings were all common. The gooseberry was a much celebrated fruit. There were even gooseberry clubs, all fighting to grow the biggest and most flavoursome fruit. Nowadays the gooseberry has become a much forgotten wonder of the past, which is a pity, their high yielding fruit produced from mid June through to the end of July make for delicious eating.
As well as the more traditional uses for gooseberries like pies, tarts and fools they can be used in more adventurous ways. We recommend to cook them down with some sugar and serve them with a pork chops/roast instead of apple puree/sauce. What could be more delicious?!
Other produce that is good to eat in June
Vegetables
Potatoes (early)
Radishes
Lettuce
Spinach
Beetroot
Rocket
Spring Onion
Turnips
Chard
Herbs
Mint
Lemon balm
Parsley
Basil
Rosemary
Thyme
Sage
Lovage
Chives
Nasturtium
Sorrel
Borage (Flowers)
Summer Savory
Hedgerow
Elderflower
Sea Beet
Ground Elder
Good King Henry
Horseradish (roots)
Fat Hen
Wild Leek
Wood Sorrel
Borage (flowers)
Shepherd's Purse
Bittercress
Wild Cherry
Fruit
Cherries
Gooseberries
Redcurrants
Rhubarb
Strawberries
Wild Cherry
Meat & Game
Lamb
Wood Pigeon
Fish
Mackerel
Plaice
Monkfish
Turbot
Crab
Lobster
Oysters
Sea Trout
Queen Scallops
Sardines