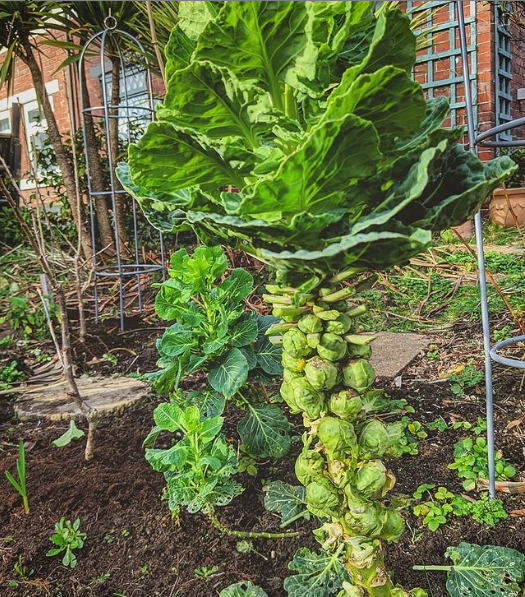 Brussel Sprouts
Love them or loathe them sprouts are an essential part of the traditional Christmas dinner – and for good reason. They come into season in December and are at their best eaten at this time of year.
We always have at least two plants in the food forest, as only one of us eats the sprouts, so it's useful to just pop out and pick a few for dinner. We also pick the leaves of the plant, which we steam like cabbage and even the sprout-hater enjoys the greens cooked in this way.
Sprouts are high in fibre, low in fat and contain plenty of vitamins including C & K. They are also full of minerals and antioxidants, so they are worth adding to your plate. 
If you are one of those people who doesn't normally like sprouts it might be worth experimenting with them to see if you can change your own mind. Try steaming instead of boiling to keep more of the colour and texture. Stir-frying or roasting are also good ways to cook them.
You can also try pairing the Brussel Sprouts with bacon, pancetta, butter, chestnuts, pomegranates or parmesan to boast their flavour or make them more palatable for the 'Sprout-doubters'.
Other produce that is good to eat in December
Vegetables
Beetroot
Brussel Sprouts
Cabbage
Jerusalem Artichokes
Kale
Leeks
Parsnips
Herbs
Sweet Cicely
Thyme
Winter Savory
Hedgerow
Chickweed
Chanterelle
Oyster Mushrooms
Sloes
Fruit
Apples
Clementines
Cranberries
Pears
Quince
Sloes
Meat & Game
Gammon
Goose
Grouse
Hare
Partridge
Pheasant
Turkey
Fish
Anchovies
Oysters
Philchards
Sardines