Herbs are brilliant in the summer months for adding fresh flavour to dishes, but many die back over the winter. A great way to preserve garden or foraged herbs for use during the colder months is to dry them. This allows you to make the most of your spring/summer glut of green foliage and saves you relying on shop-bought dried herbs later in the year.
Dried herbs can be stored in shakers for easy use in the kitchen or can be used to mix blends of your own herbal tea.
The traditional way to dry herbs is to hang them, but you can also speed up the process by drying many herbs in a low-heated oven. Place completely dry herbs on a rack and dry for several hours on the lowest setting. Alternatively, you could try drying them in a well-ventilated airing cupboard. My preferred method is to use a dehydrator, which are reasonably cheap to buy online.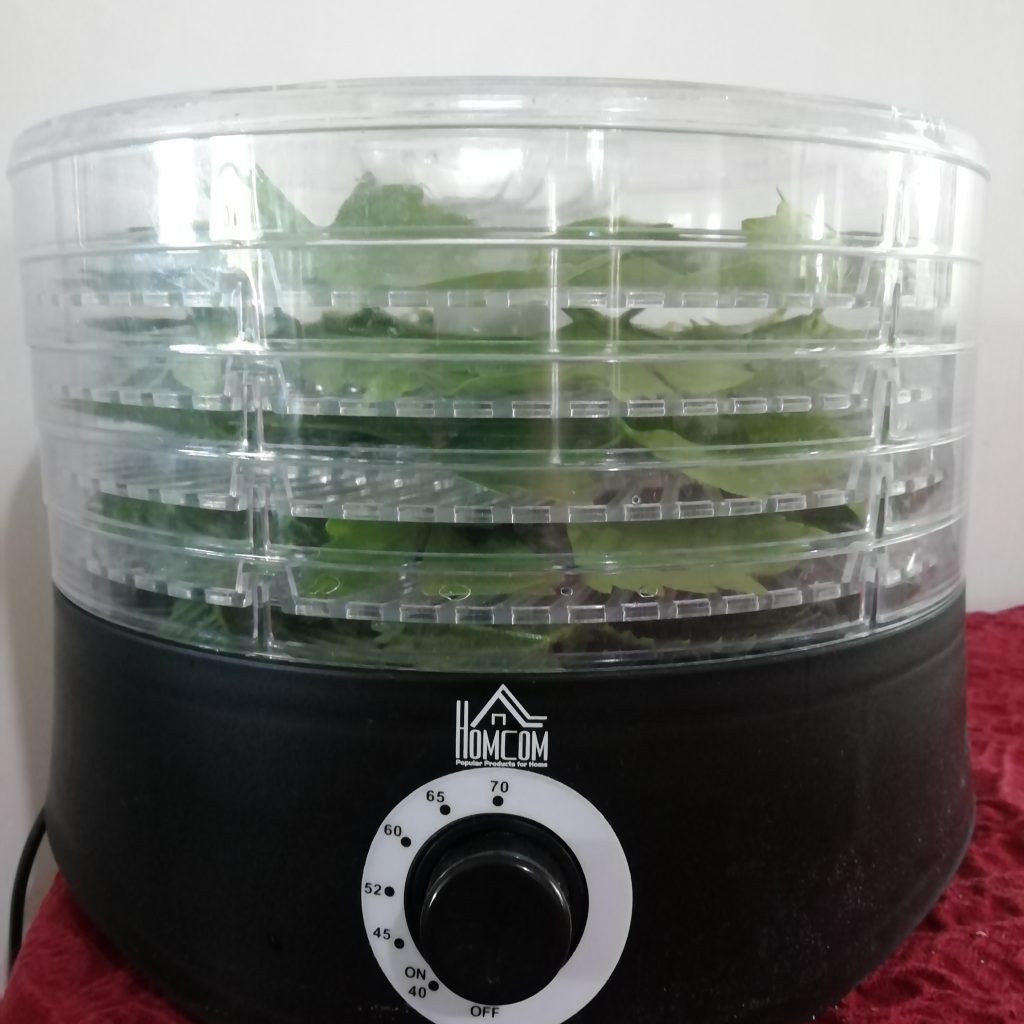 A dehydrator is a simple device to evenly dry trays of produce. We have used ours to dry herbs, chillies, fruit leather and foraged foods like nettles & wild garlic.
The temperature can be adjusted and drying times vary, but we have found it to be a very useful piece of kit. It dries the contents over a number of hours and then they can stored for later use.
We have found that woody, green herbs are the easiest to dry in this method, with nettles being our favourite foraged greens to preserve in this manner. Once dried we use a pestle and mortar to power the nettles, so that they can be sprinkled into dishes when required. No more battling with the sting to get the nettle taste in stews, soups and omelettes.
Bay, rosemary, lovage, thyme, chamomile flowers and mint also dry well. 
Last summer we had a bumper crop of strawberries and these were amazing dried. Lightweight and good to take in a packed lunch or add to muesli. We simply sliced them thinly and arranged on the racks. Other fruits can also be prepared in this way- we may try apple slices soon. 
Chillies take a long time to dry in a dehydrator, but it's really easy to make your own chilli flakes/powder if you have a glut of chillies. We preserved our habineros in this method this year and the dried flakes are excellent additions to any curry or spicy dishes.
All times may vary depending on the temperature you are drying at, but approximately…
Herbs- 4-8 hours
Chamomile flowers- 4-6 hours
Fruit Leather- 5-8 hours
Chillies- 6-8 hours
Strawberries – 4-6 hours
It's always best to leave them a little longer if you're not absolutely sure they are completely dry. Any moisture left in the produce may lead to mould growth if you haven't completely dehydrated them.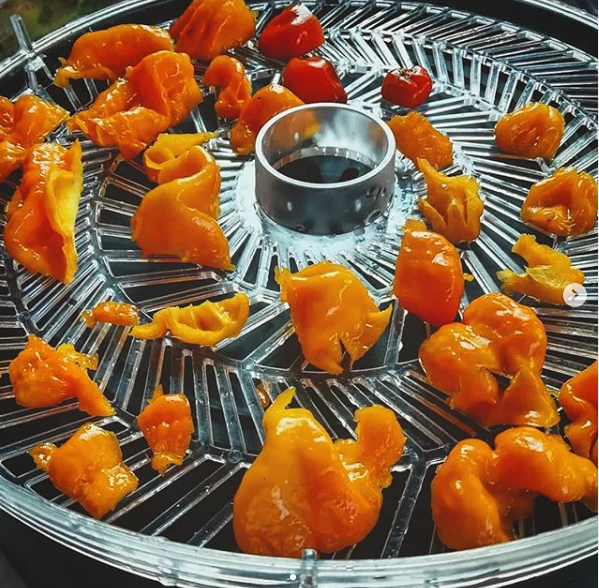 Our dehydrator says it can be used for jerky, so that may be a project for the future. It is worth experimenting with this method of preservation and I am sure it'll feature in later posts from the Cottage CookBook.
Watch this space!
Purchases based on this post: