Winter 2020 wasn't great in our area for sloes, but I didn't want that to prevent me from making my favourite festive tipple. I made a small batch of sloe gin with just a handful of sloe berries and made just enough for 2 drinks. 
Making sloe gin is so simple that it was worth the effort.
We made a treat of it on the night we put the tree up – setting us up for the season without giving us a headache in the morning.
Sloes are the fruit of the Blackthorn bush, which are found abundantly in hedgerows in the autumn months. They look a little bit like a cross between a blueberry and a small grape, but are quite bitter and tart if eaten raw.
Many traditional sloe pickers will tell you to wait until after the first frosts to pick your sloes, but I tend to pick them when I come across them and freeze them once they have been washed. This helps break the skins and makes infusion your more potent. 
The best time to make your gin is in the autumn so that it has a few months to infuse before Christmas. Alternatively, you can make batches on an annual basis and drink year-old sloe gin in the winter. Maturing the infusion improves the flavour, so patience is definitely a virtue.
If you are not keen on gin you can use the same method to infuse vodka or any other spirit you fancy experimenting with.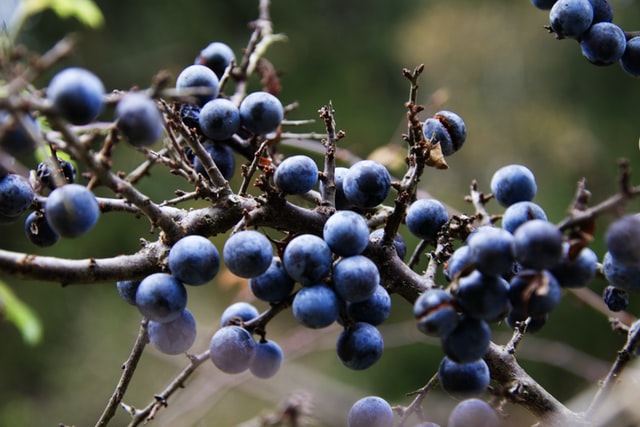 Ingredients
Sloe Berries – foraged, washed and frozen preferred, but if you are using fresh you will need to prick these with a skewer to aid the infusion.
Gin (or chosen spirit)
Sugar syrup (make your own by slowly heating equal amounts of sugar and water)
Method
Sterilise a jar that is the appropriate size for the number of sloes you have foraged. The sloes should take up about half the height of the jar.
Cover your sloes with gin until it is double the height of the fruit.
Cover and store for 3 or more months. Regularly agitating the container to stir up the contents.
Once your liquor has had time to infuse, drain the gin to remove the sloes. Create your sugar syrup and add to the sloe gin in small amounts until it is sweetened to your taste.
Enjoy! – or leave to mature if you prefer.
Purchases based on this post: