Served on a red hot sizzler pan this Mexican recipe smells, looks, tastes and even sounds delicious.
Great for a Mexican food night or a romantic sharing meal.
Ingredients
2 Large Onions – Chopped
3 Spring Onions – Derooted and chopped
1 Green Pepper – Deseeded and chopped
2 Jalapeno Chilli Peppers – Deseeded and finely chopped (leave seeds in if you prefer more heat)
4 Organic Chicken Breasts – Cut into medium pieces (use kitchen scissors)
Olive Oil
1 tbsp Double Cream
2 Cloves Garlic – Finely Chopped
Mexican Spice mix
2 tsp Chilli Powder
1 tsp Cayenne Pepper
2 tsp Sweet Paprika
2 tsp Ground Cumin
1 tsp Garlic powder
1 tsp Onion powder
2 tsp Dried Oregano
1 tsp Black Pepper
1/2 tsp Garlic Salt
1 tsp Ground Cumin
To Serve
Fajita Bread
Salsa
Guacamole
Crisp Salad
Grated Mature Cheddar Cheese
Also needed:
Not a must but a Cast Iron Sizzler Pan (like the ones used in restaurants) will make this food sound delicious as well as smell delicious and will keep the chicken warm until you're ready to roll. This makes it brilliant for sharing straight from the platter and a wonderfully romantic meal.
Instructions
Turn the oven to full power, add a little olive oil to the sizzler pan (if using) and place in the oven.
Heat a deep sided frying pan on the hob, once heated add the chopped onions, spring onions, chopped green pepper, garlic and jalapenos and fry until a golden brown. Once golden move to one side of the pan and add the chicken, once the chicken is seared sprinkle the mexican spice mix over the contents of the full pan, stir well coating everything in the pan. Lower the heat and cook for half an hour or until the chicken is cooked through.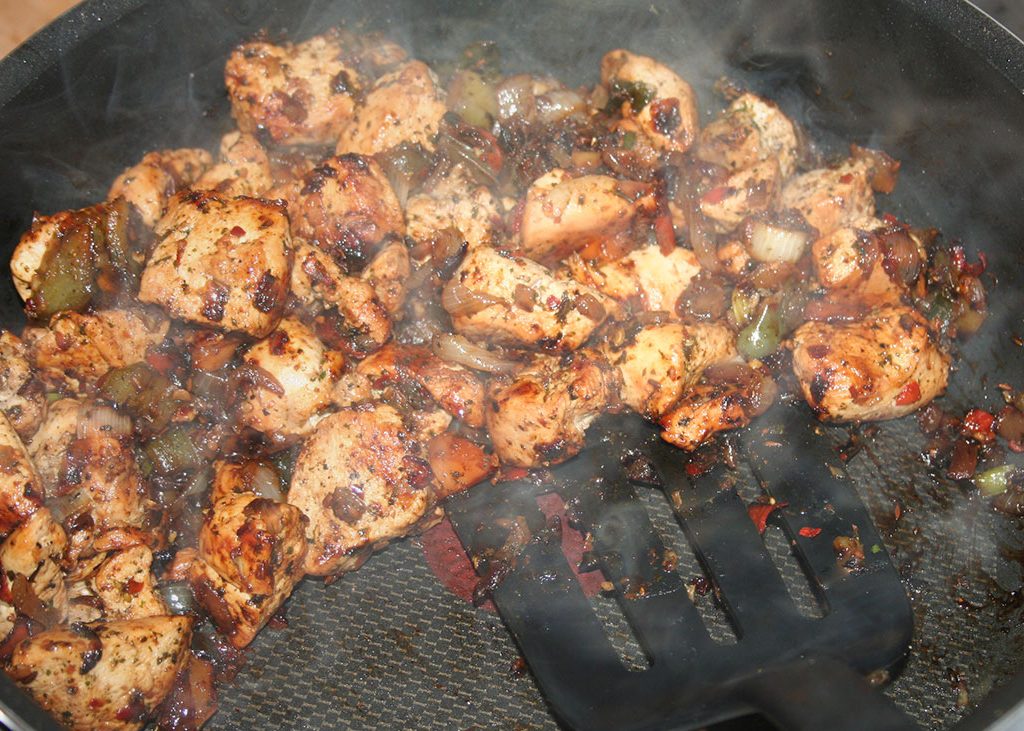 Heat the fajita bread in the oven for 2 minutes. Whilst the bread is heating remove the sizzler pan from the oven and place on a very hot hob for 1 minute until red hot. Add the double cream to the chicken and mix well, this is just to glaze and stop the chicken being too dry, it will make it look shiny. If you prefer to keep this recipe healthy you can omit the cream. Add the contents to the red hot sizzler pan (make sure you wear oven gloves when handling the pan) serve immediately with guacamole, salsa and leafy salad and a bowl of grated cheese. Place in the centre of the table and roll your own fajita.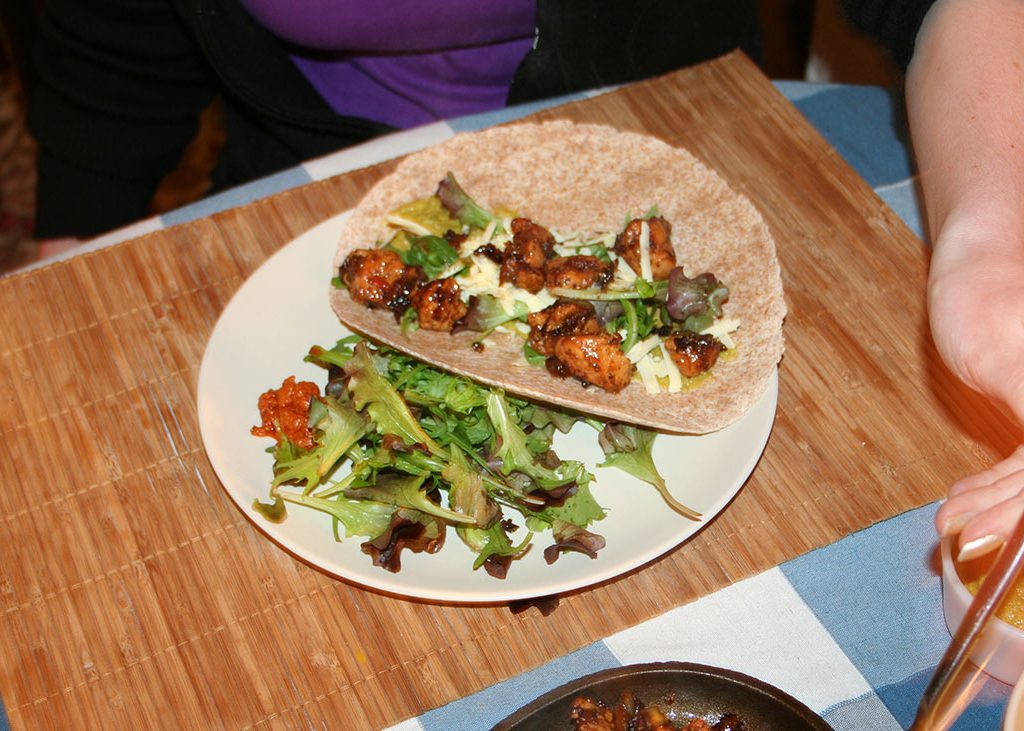 Tips:
Rolling your own fajitas is quite easy – place your mix of salsa, guacamole, salad, cheese and lastly your Mexican Chilli Chicken in the centre of a warm fajita, make a fold along the bottom to hold your ingredients in then just roll the sides around the contents. It's fun and you'll soon get the hand of it!
If you love heat maybe this recipe is too bland for your taste buds, just add some of your favourite scorching chilli sauce at the rolling stage.
I think this recipe goes well with white wine (if you're going for that romantic meal). You can always double the recipe up and have friends round, go for a mexican night and serve with an ice cold mexican beer, Corona or Sol are my favourites.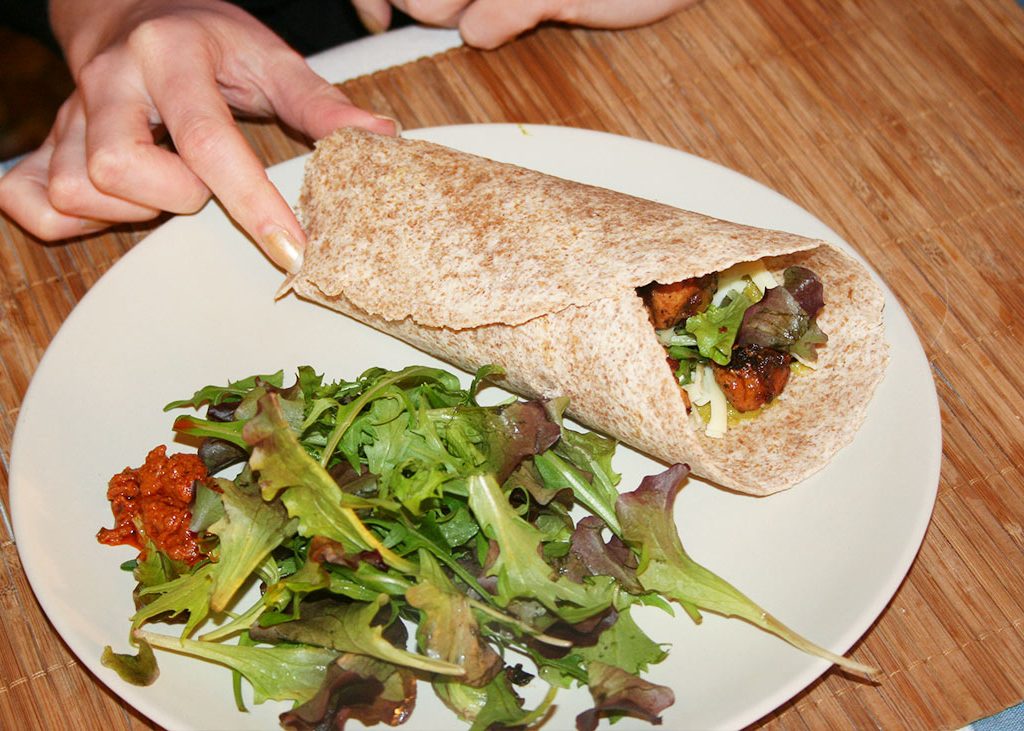 Not got a Cast-iron Sizzler Serving Platter?
A sizzler platter or pan can make your food sound amazing as it comes to your table in a restaurant, but this will work just as well at home. It will keep your chicken hot so you can take your time rolling your fajitas, and wow your guests as their food is brought to their table.
Buy yours on Amazon via the links below: