Easy sweet potato flatbreads, fried in a cast iron skillet in coconut oil.
Ingredients
Makes 6-10 flatbreads
3 large sweet potatoes
Approximately 2 cups self raising flour (depending on size of potatoes)
Coconut oil for frying
Salt, ground white pepper and paprika for seasoning
Also needed
Cast Iron Skillet
Method
Peel, boil, drain and mash the sweet potatoes, add a pinch of salt, white pepper and paprika.
Slowly start adding self raising flour and knead, keep adding flour until smooth and silky Iike bread dough.
Roll thin with more flour to stop sticking.
Fry in a cast iron skillet in a spoonful of coconut oil over a medium high heat .
Keep warm in a low heat oven whilst you fry the rest in batches.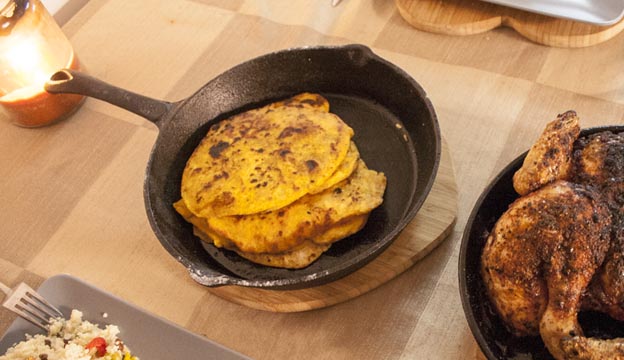 Recommended purchases based on this recipe: