You've probably seen Char Siu or Chinese barbequed pork at all you can eat Chinese buffet restaurants or in special fried rice (the red in Char Siu is unmistakable).
"Char siu" literally means "fork burn/roast" after the traditional cooking method for the dish: long strips of seasoned boneless pork are skewered with long forks and placed in a covered oven or over a fire.
This Char Siu Recipe is great for using up leftover roast pork, you can serve with noodles like I have or serve with rice or even on a bun (Char Siu Baau).
Ingredients
Cooked pork cut into small pieces
Spring Onions – Derooted and chopped
Mushrooms
Mixed vegetables
A few Dried Lime Leaves
A stick of Dried lemon grass
Olive oil
Toasted Sesmame oil
Egg Noodles
Rub ingredients:
1 cup of soy sauce
2 tbsp of hoisin sauce
2 tsp chinese 5 spice
1 Tsp onion powder
1 tsp finely ground black pepper
1 tsp ground cumin
2 tbsp white sugar
1 tsp red food colouring
1 tsp garlic salt
1 tbsp honey
1 tbsp rice wine – or sherry
1 tsp fresh grated ginger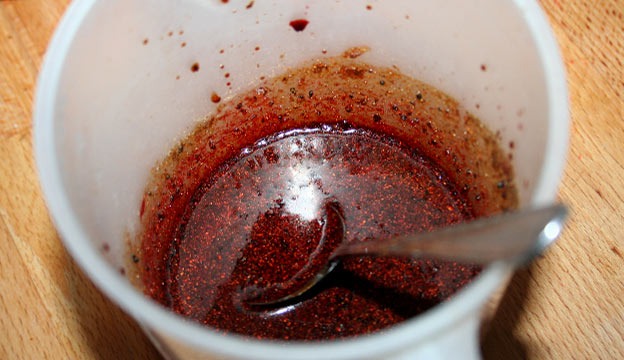 Mix marinade ingredients in a small jug.
When adding honey melt by placing jug in a bowl of boiling water and stir until fully mixed.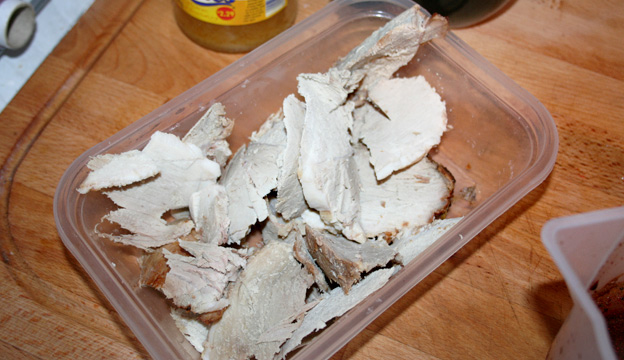 Make sure your cooked pork is cut into small bite-sized pieces before adding the marinade (Trust me it's much easier than trying to do it afterwards).
My advice is don't wear anything white while making this recipe… you'll never get that red food colouring out.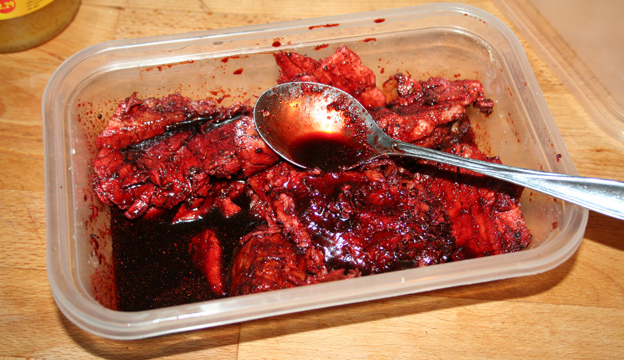 Slowly pour the marinade over the pork pieces and continually spoon over until nicely coated.
Cover and place in the fridge for about 4 hours to let the marinade soak into the meat. mix occasionally to get an even coating while marinating.
Once ready to cook add the lime leaves and lemon grass to a cup of hot water to rehydrate. If you can get fresh lemon grass this will taste much better and will save lots of time. 
Add a little olive oil to a deep sided pan or wok  and add lemon grass and lime leaves to brown.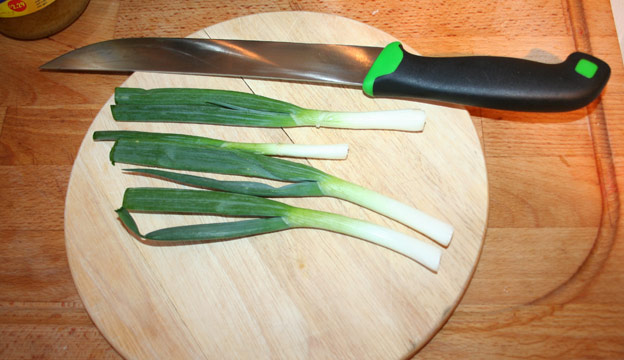 Chop your spring onions and mushrooms.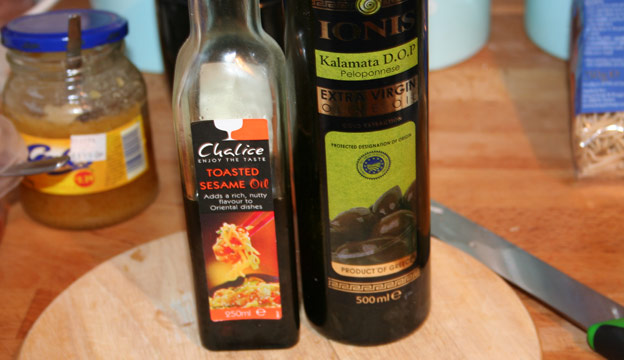 Add to the pan along with a little toasted sesame nut oil. This stuff can easily overpower with it's nutty flavour, so I use a tiny splash of this mixed with a good slosh of good olive oil and I find this works well.
Add the chopped mushrooms and spring onions to the pan.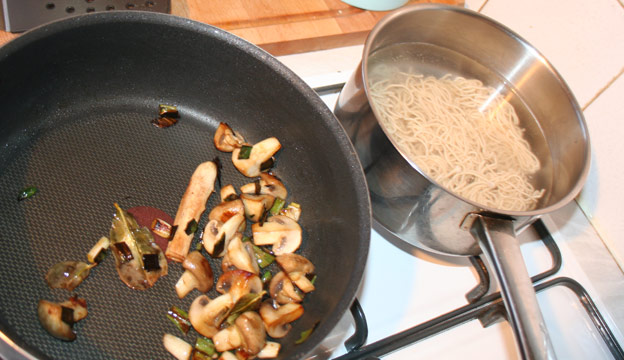 Cook until browned. 
At this point stick your noodles in a pan of hot water from the kettle and place on the hob, add a good slosh of dark soy sauce to add a little flavour.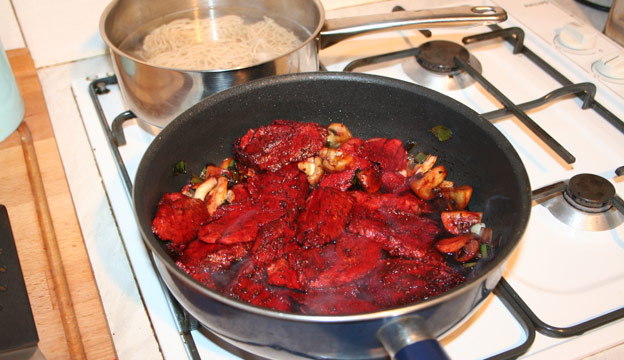 Get your meat and slowly add to the pan.
A little of the sauce is a good thing but not too much, as your mushrooms will end up red which you don't want.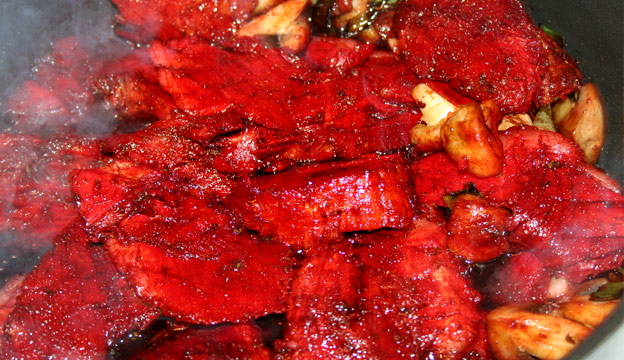 Give your noodles a stir, heat the meat in the pan until the excess sauce boils down to a sticky mixture, make sure you coat the meat before it boils away completely. This is where all the flavour is, as the sugar and honey caramelise their flavours will mix with the salty tang of the soy sauce and five-spice.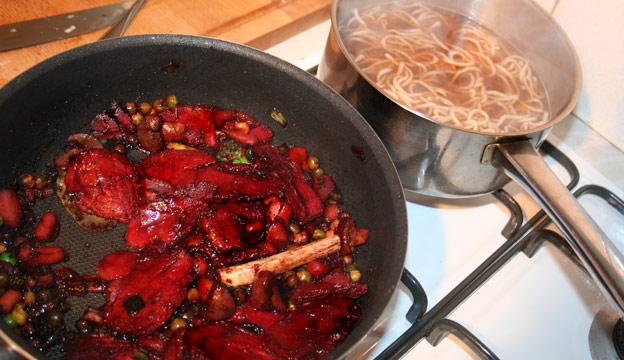 You want the edges of your pork to start turning black – this isn't burnt, this is all that sticky flavour – if it starts to smoke turn down the heat.
Add your mixed vegetables – fresh is always better but if like me you've run out but you have a bag of frozen mixed veg in the freezer these will do, heat through stirring to coat in any leftover flavour from the marinade.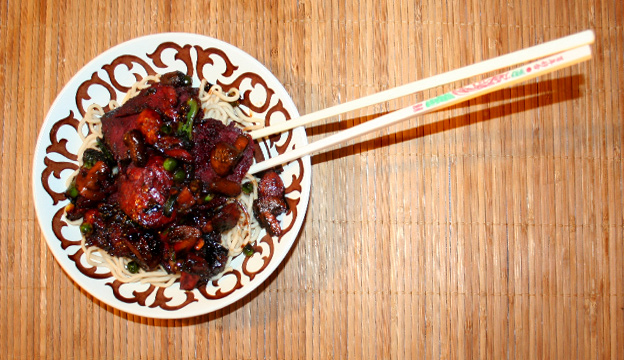 Your noodles should take about 4 minutes from boiling so they should be ready now.
Drain the noodles and add to a serving bowl, stack the pork on top and edge with the mixed vegetables.
Take the lemongrass and lime leaves out before serving.