Simple Garlic Butter Chicken in a Cast Iron Skillet
Simple cooking – delicious results. This chicken recipe is brilliant for feeding a crowd and so full of flavour, with a 10″ cast iron skillet it couldn't be easier.
Ingredients
1 medium free range chicken
Rub ingredients:
2 Cloves garlic (peeled and crushed or finely chopped)
3 Tbsp salted butter
1 Tsp garlic salt
1 Tsp onion powder
4 Tbsp Rapeseed Oil
1/2 Tsp paprika
1/2 Tsp black pepper
1 tsp dried thyme (or fresh leaves chopped finely)
1 tsp dried parsley (or fresh leaves chopped finely)
Instructions
Preheat oven to 220°C.
Add crushed garlic, butter, garlic salt, onion powder and rapeseed oil to a microwavable dish, microwave for 30 seconds on high to melt the butter, mix with a spoon.
Spatch-cock the chicken by cutting out the back bone and cutting through the breast plate from the inside.
Using your hands rub the chicken with the butter mixture, make sure to lift up skin and rub underneath, pulling the skin back over afterwards.
Once fully coated with the butter rub, sprinkle with paprika, black pepper, thyme and parsley leaves.
Place cast iron skillet in preheated oven for around 1hr 45mins (depending on size of chicken).
Every 30mins take out of the oven to baste with the butter and juices from the pan. Just tilt the pan to collect the juices with a spoon and pour over the chicken. This will keep the chicken moist, increase flavour and aid in browning and crisping the skin.

Cook until juices run clear (push a skewer into the thigh) or until internal temperature is at least 75°C and the skin has browned.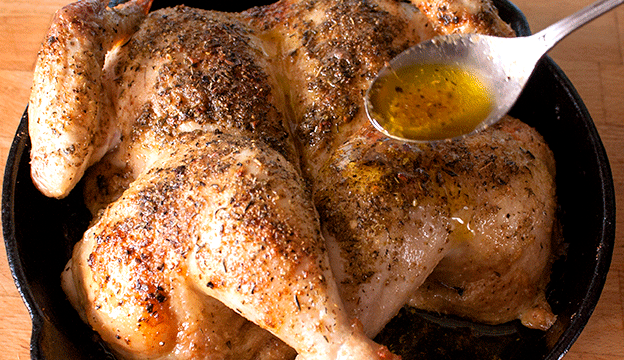 Not got a Cast-iron Skillet?
Cast Iron is oven safe and suitable for use on induction, ceramic, electric and gas cooktops. As well as being safe to place in the oven, cast iron works perfectly well on barbecues and campfires. I use my cast iron skillets and cast iron Dutch ovens for roasting on the BBQ and smoker – they're so robust.
Lodge Cast Iron Round Skillets/Frying Pans
If you've not got a cast iron skillet I would recommend one from Lodge.
Lodge is an American brand, their cast iron pans are extremely high quality and good value for money. A lodge cast iron skillet will last over 100 years of heavy use if cared for properly.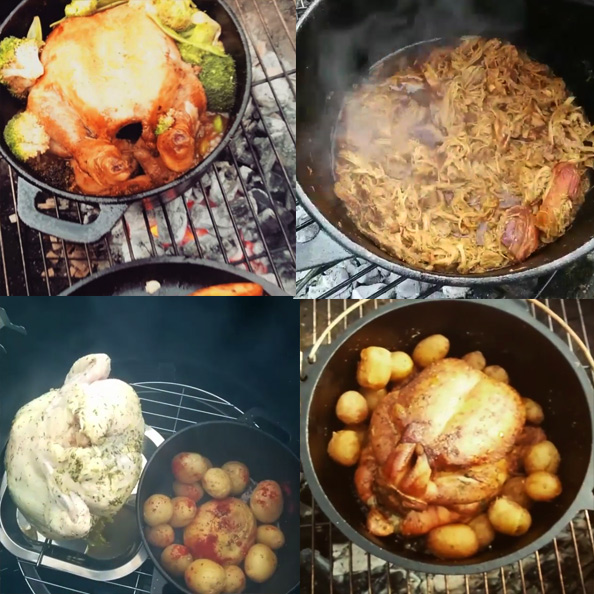 Buy yours on Amazon via the links below: