Everyone can grow their own food, whether you have access to an allotment or you have a sunny windowsill.
Most people have some access to a little land even if only a small plot in their back garden. There's room for a few fruits and vegetables no matter how small your outdoor space is.
Many fruit and vegetables will do well in pots on the patio. Make use of vertical space in your garden with a few climbers like peas, or green beans- even cucumbers or courgette plants will do splendidly well grown up a bamboo or willow pyramid.
If you haven't got room for a vegetable bed, why not mix your eating plants amongst your flowers and ornamental plants? Many fruit and vegetable plants can look just as stunning and some are quiet architectural if used in the right space. Rhubarb for example with it's stunning red ribbed tall leaves can make a theatrical appearance in the flowerbed and makes for great eating in late spring and summer, it comes up every year and is relatively low maintenance.
Chilli and Tomato plants do extremely well in sunny spots in pots on the patio and make for great additives to recipes. If you have room for a greenhouse the crop will be more abundant, but a greenhouse isn't essential to grow your own.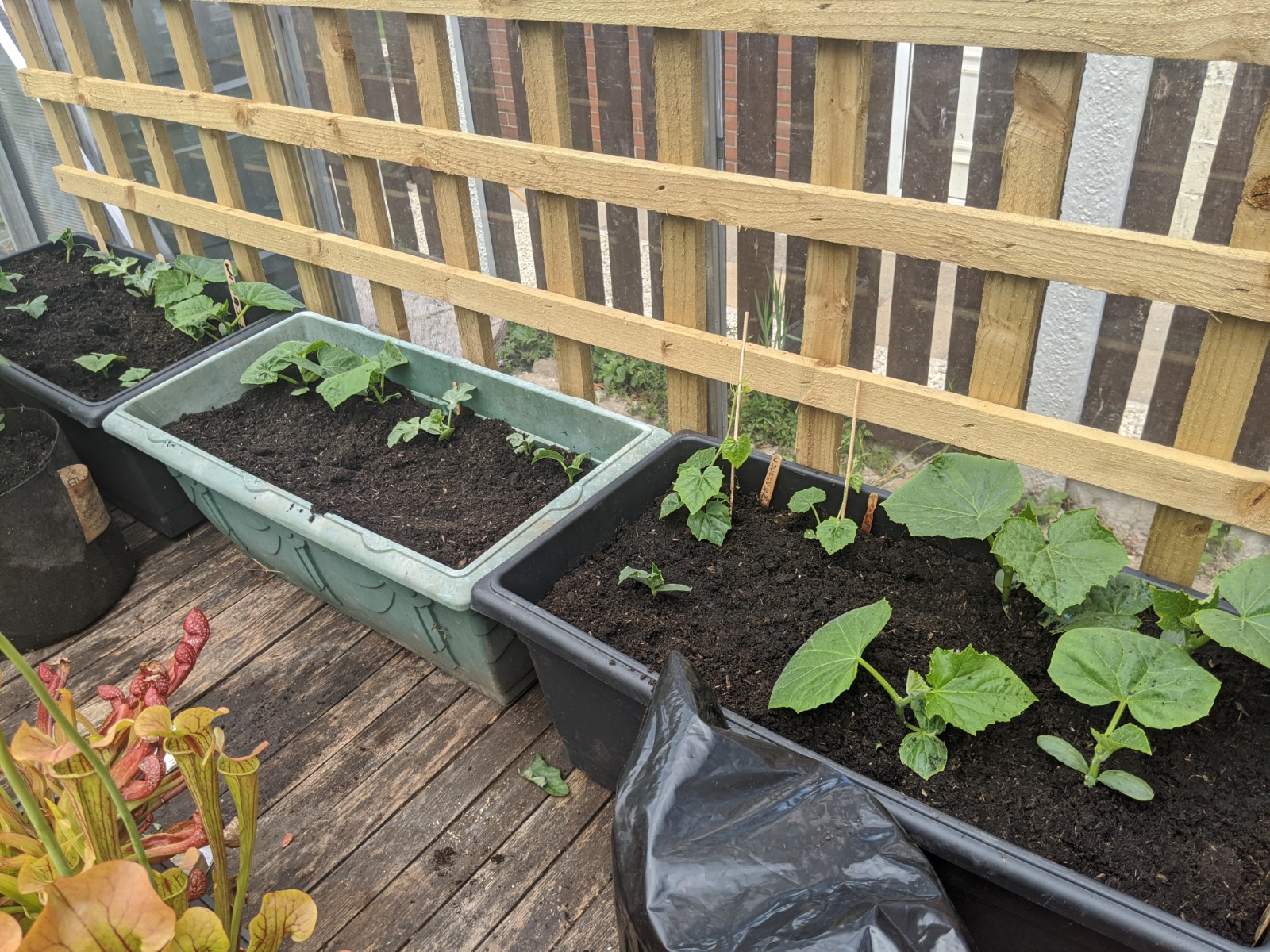 Benefits of growing-your-own
Until you've grown at least one item of food yourself, you don't know what you're missing. Nothing will taste better from a supermarket than that which you have grown yourself. If it is in the garden you can go from picking to adding to your favourite recipe in seconds.
All fruit and vegetables start to loose the vitamins (and with them taste) as soon as they are picked and with a lot of supermarket produce coming from all over the world. Eating straight from the garden, from your own seasonal produce is the freshest that food gets. What's more is they taste a lot better and you know exactly how they have been produced.
Growing your own in an organic way is also better for the environment, plus you're making less demand for foods that have traveled many air miles from where it was produced. Growing organically means there are no pesticides on the plants you've grown, which no matter what anyone says, has got to be good for both you and the environment.
It's not all about fruit and veg – adding herbs to your garden will give you a great array of flavours to add to your culinary creations. 
Rosemary, thyme, parsley, basil and loads of other herbs do brilliantly in large planters on the patio. You could even create a herb bed filled with delicate flavours and smells. 
Herbs can subtly change the flavour of any cooking, whether it's a sprig of rosemary with your lamb or heavenly smelling oregano leaves sprinkled on a freshly baked pizza.
A lot of herbs also attract wildlife to your garden, so they are suitable for people who want to encourage bees and butterflies to their gardens.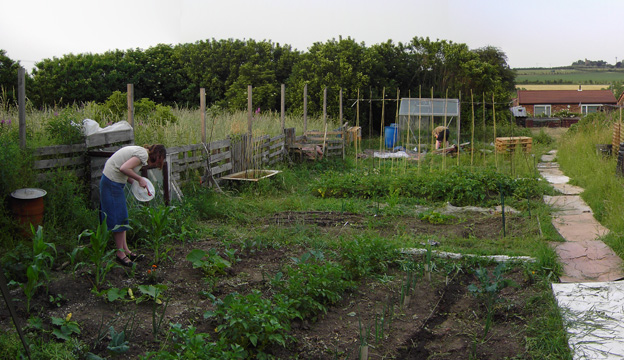 Allotments are wondrous places and a bustling community of gardeners are always very welcoming if you are new to an allotment. 
Most councils will have an allotment scheme where you can rent council owned land for at a low cost price per year. With many doing so already you can grow your own food on a grander scale than normal back garden grub growing, giving you more than you will ever need; especially in the summer months. 
If you have an allotment in the summer you'll be kept busy with weeding and watering but the rewards are more food than you and your family could eat… you'll most definitely have enough to swap with other allotment holders that maybe growing something different than you and even have leftovers to freeze for the winter.
In many areas there are waiting lists to get an allotment and with many councils using potential or previous allotment land for development these lists are growing.
I myself had to let an allotment go due to the land the allotment was on awaiting development of houses. I'm lucky enough now to have a nice big garden to grow my own in. I know how frustrating it is to want to grow, but not have much space to do so.
The key to getting plants to thrive is to be careful where you buy them from. 
Try to buy plants and seeds from nurseries or herb specialists. The plants they have in supermarkets are usually grown quickly in greenhouses and have poorer flavour and often die as soon as you bring them home. 
There are many online plant retailers that sell plug plants in the spring that do extremely well so have a look on the internet if there isn't a plant nursery or garden centre nearby.
If you are on a budget, you can often get plants from friends and neighbours. Many plants procreate via division, so many gardeners would be happy to divide their plants with you.
There are also community groups that run seed/plant swapping events. Joining online forums and looking for local groups on social media can help you find events like this.