Back in March 2019 we decided to start a food forest project in the front garden. It was a pretty easy decision to make. The front garden was mostly lawn, and we never really did much with it other than mow it, on what seemed liked too regular as basis.
We'd sat down and planned the first few fruit trees and started look at what other things we could plant.
We live in a typical semi-detached house in Barnsley, South Yorkshire. When we bought the house in 2006 the interior was pretty backdated, but we bought the house for one main reason – It was a corner plot with quite a bit of land. 
Over the years we have been in we have slowly updated the interior, the garden however has been a continually ongoing and evolving set of projects.
A lot of the plants that were already in the garden were ornamental. There were also 30ft conifer trees all the way around the property, luckily most of these have gone over the years with only a strip in the front garden that provides a decent windbreak to shelter the food forest. It can be problematic having to keep the height of these rather vigorous trees down each year. At some point, they will likely be replaced with something that will fix nitrogen in the soil or at least provide something to eat as well as work as a windbreak.
Our back garden has always been our main growing spot, with raised beds and a large cold frame which we grow tomatoes and chillis in each year. 
About 5 years ago we pulled up the privet hedging that ran along the wall of the road in the side garden, giving us a long strip to plant a dwarf tree orchard of cherries, apples and pear trees, as well as gooseberries and red currants. Each year our harvest yields have become greater, but there wasn't any room in that strip to plant anything else.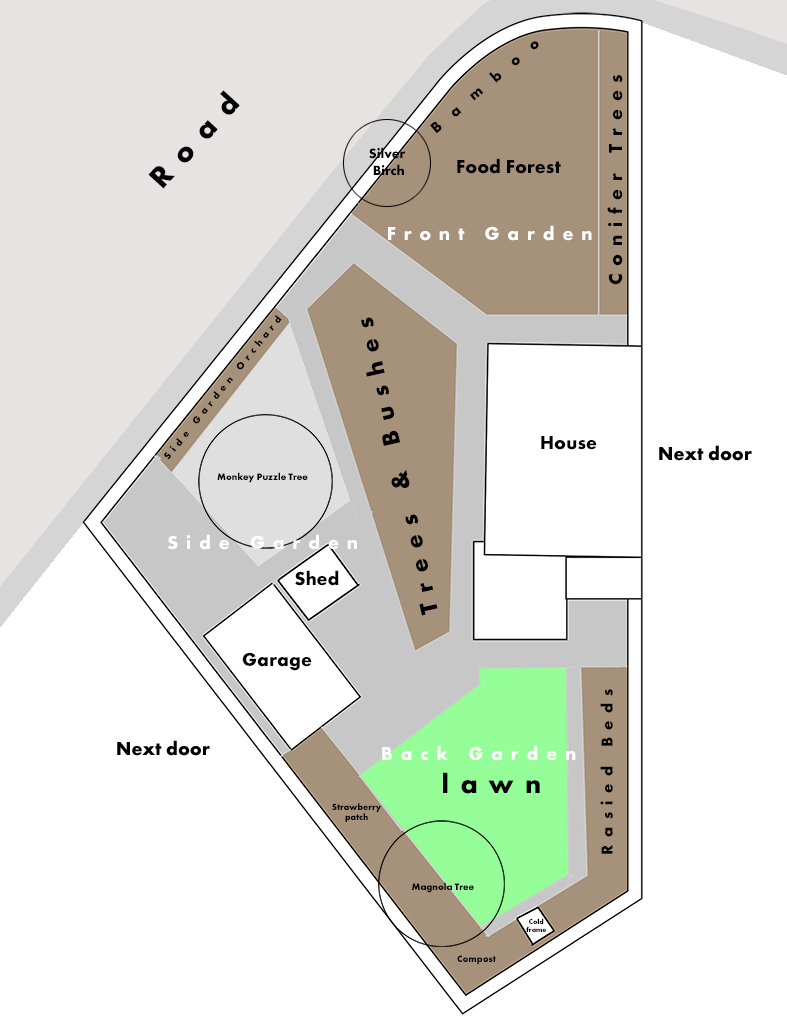 We had dreams of becoming much more self-sustainable as well as being able to use the fruit for brewing. So we needed extra space for trees.
It was around that point that I found Martin Crawford's book; "Creating a Forest Garden: Working with Nature to Grow Edible Crops" 
The book changed the way I thought about growing food completely, much different than growing in traditional raised beds with crop rotation. 
It was the perfect book to help me start my food forest journey.

From Lawn to Food Forest Part 2…